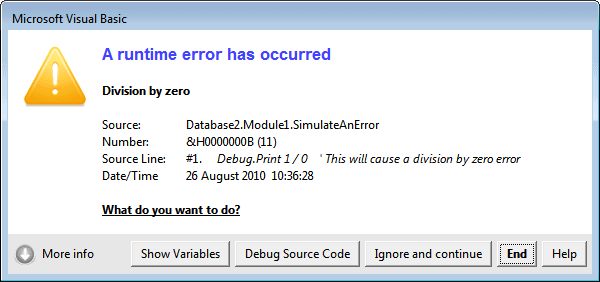 Previously known under the name of "SimplyVBA Global Error Handler", we've just released version 2 of the product, now called
vbWatchdog
.
Designed specifically for VBA, the product offers a robust mechanism for catching and logging errors that occur in your VBA code on a global scale.
The main features are;
- No DLLs required - vbWatchdog is coded neatly inside your VBA environment
- Identify the source procedure and module name where the error occurred
- List the exact line number to identify the line of code that failed
- Report the full callstack that lead up to the exception
- List values of variables within each procedure on the callstack
- Offers a Try-Catch paradigm for simplifying local error handling
- Prevents the Access Runtime from closing on unhandled errors
- Includes a customizable HTML based error dialog at your fingertips
- Includes a detailed online manual
Why not take a look at the
Sample.MDB
to see what you're missing out on...
More Information
Wayne Phillips